(Click on photos for larger images)
Update: August 2022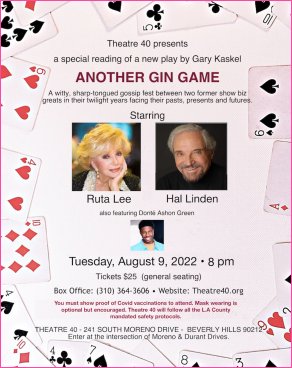 Sure to be sold out. Grab your seat now.
Update: April 2022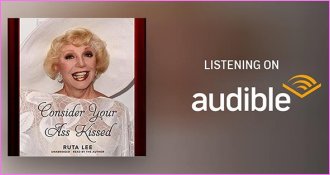 Now available for your listening pleasure. Hear Ruta read it herself. Audible.com
Update: February 2022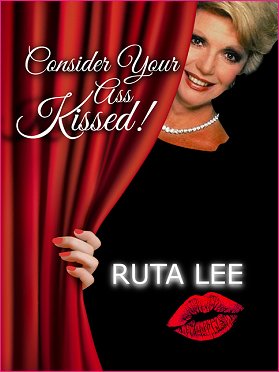 Start the year with a fun read, kindle version too! Shop Ruta Lee Book: Amazon More great news! If you want to hear Ruta read her book, this is for you. Audible pre-order link
Update: December 2021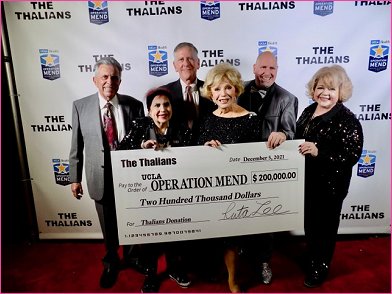 Best way to end a year…in the spirit of Charity. Thalians Holiday party this year was held at the wonderful Waldorf Astoria. Ruta's beloved Thalians once again presented a $200,000 contribution To UCLA's Operation Mend. So far 2 Million Dollars have been donated to this great organization. Pictured here from left to right. Dr. Irwin Lehrhoff, Stephanie Hibler, Dr. Tom Strouse, Ruta Lee, Frank Sheftel, Patrika Darbo.
Update: May 2021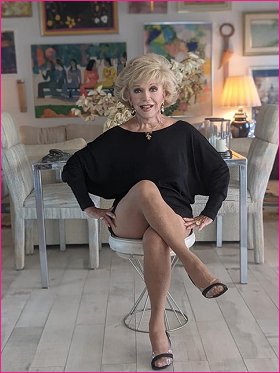 Ruta's Godson, David Blackstock, took this fabulous shot. Ruta thought - not so bad for an 86 year old.
Update: April 2021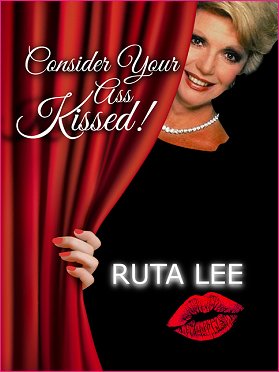 Ruta Lee IS Hollywood! She tells the fascinating stories of her life, as a rising star in the golden years of Hollywood while reaching the top in her career spanning 7 decades. You will meet the famous actors, dancers and singers who are now legends that Ruta worked with and whose stories of life behind he scenes intertwined with Ruta's. The stories of Ruta's life are told here with truth, with humor and with the honesty that is Ruta Lee. Order now at Amazon, Barnes and Noble and support a local by getting a signed copy at larryedmunds.com. (Fabulous Hollywood bookstore since 1938).
Update: 2020
Not the best of years by any means. Ruta lost her beloved husband of 46 years, Webster Lowe.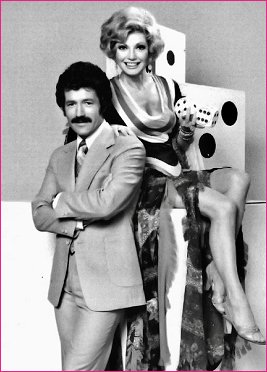 And four months later, best friend Alex Trebek passed away.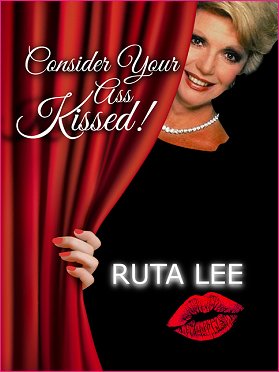 Through it all, and the pandemic as well, she was able to complete her first book entitled, "Consider Your Ass Kissed". Look for it in bookstores in late Summer or early Fall.
Update: December 2019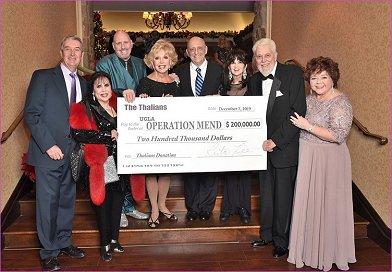 Thalians Holiday Party was held once again at the beautiful Bel Air Country Club. Ruta's beloved Thalians presented their $200,000 contribution to UCLA's Operation Mend. A Million Dollars has already been donated to this great organization. Pictured here from left to right… Board members - Andrew McDonald, Stephanie Hibler, Frank Sheftel, Ruta Lee, Ron Katz ( founder of UCLA Operation Mend), Barbara Cohen Wolfe, Larry Wolfe, Patrika Darbo.
Update: May 2019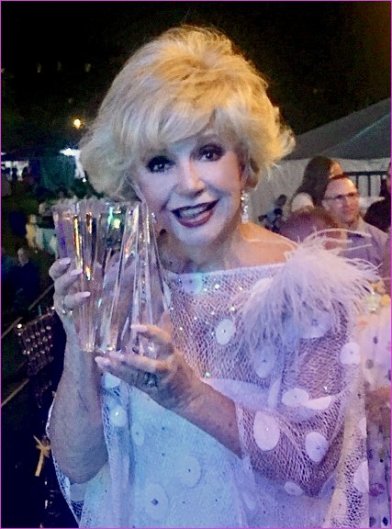 26th Evening Under the Stars. Ruta gratefully received the Jeanette Rockefeller Lifetime Humanitarian Award for her lifetime commitment to philanthropy.
Update: December 2018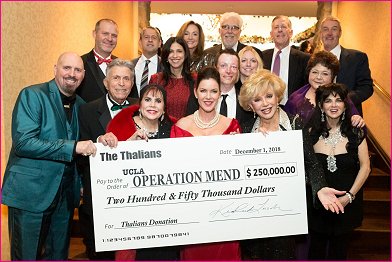 Before dancing the night away at the The Thalians Holiday Party, the Board of The Thalians once again happily presented their latest $250,00 check to UCLA Operation Mend and pledged another Million Dollars. Frank Sheftel, Dr. Irwin Lehrhoff, Stefanie Hibler, Kira Reed Lorsch (President) Ruta Lee (Chairman Emeritus) Barbara Cohen-Wolfe, Larry Wolfe, Andrew McDonald, Patrika Darbo. Also pictured Dr. Tom Strouse (Op Mend Director of UCLA's Resnick Neuropsychiatric Hospital) Dana Perel Katz, Joey Paulk and Michelle Rene.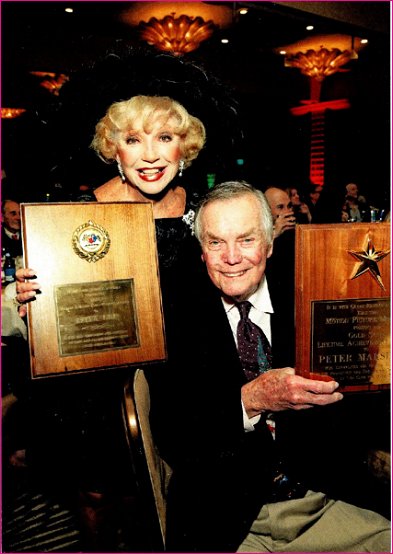 Ruta was humbled and honored to receive The Alan Ludden Humanitarian Award for the second time presented by The Motion Picture Mothers. Here she is with dear fiend Peter Marshall after she surprised him with a Lifetime Achievement Award.
Update: May - November 2018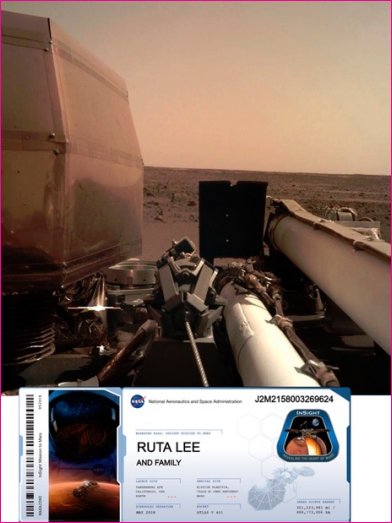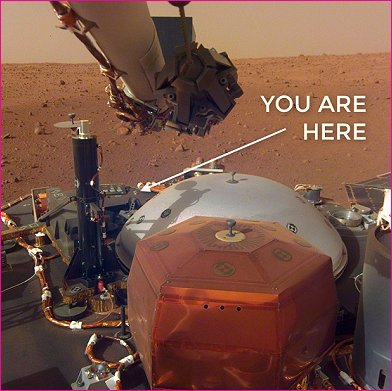 Ruta was fortunate to have been able to take the 6 month trip on Insight and land on Mars on November 26th. Who does she speak to to get credit for the mileage?
Update: December 2017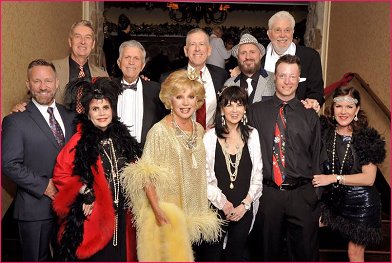 A rip roaring good time was had by all on December 9, 2017. The Thalians & Presidents Club Gatsby Holiday Party was held at the Bel-Air Country Club; continuing to raise money for UCLA Operation Mend. Op Mend is devoted to helping brave military men and women heal the wounds of war not only in body, but mind and spirit as well. Photo Identification: Top row left to right: Andrew McDonald; Dr. Irwin Lehrhoff (Chairman of the Board); Dr. Tom Strouse, (OP Mend - Director of UCLA's Resnick Neuropsychiatric Hospital); Frank Sheftel; Larry Wolfe. Bottom row left to right: Brian Theobald; Stephane J. Hibler, Ruta Lee, (Chairman Emeritus), Barbara Cohen-Wolfe (Event Chair), Retired Army SPC, Joseph Paulk, Kira Reed Lorsch (President).
Update: June 2017
Ruta would love everyone to join her for this very special night. Promises to be chock full of surprises and ALL proceeds go to her beloved Thalians and Operation Mend at UCLA.
Update: April 2017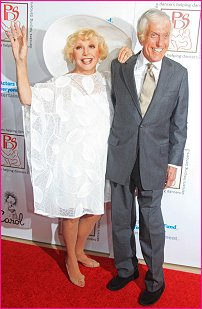 At the Professional Dancers Gypsy Awards Ruta introduced a tribute to her dear friend Debbie Reynolds while Dick Van Dyke introduced his tribute to his beloved Mary Tyler Moore.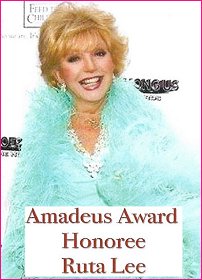 A picture is worth a 1000 words. This smile says it all. Ruta was most appreciative….first woman to receive The Amadeus Award given by the Desert Symphony.
Update: March 2017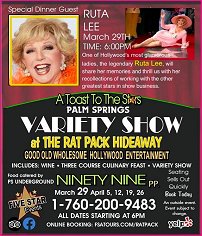 Ruta thoroughly enjoyed herself and regaled the crowd with love and laughter and stories about The Rat Pack. After all, she worked with them in Sergeants 3.
Update: December 2016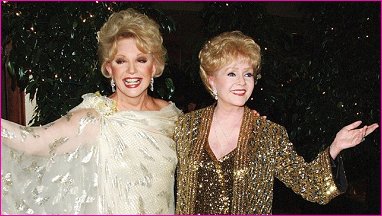 Ruta was deeply saddened to learn of the death of her dearest friend, in charity and life, Debbie Reynolds. Debbie died only one day after her daughter Carrie Fisher. They will both live on in hearts and memories forever. Tributes to their lifelong charity, thethalians.org would be greatly appreciated.
Update: July 2016
Lithuania Loves Ruta. She says she was treated like Madonna….the original one. She definitely wowed them as the keynote speaker for The World Lithuainian Youth Conference at Harmony Park, speaking to a crowd of 5000. She was even surprised when dear friend and ABC Entertainment Reporter George Pennacchio showed up and she asked him to interview her. In the video, her greeting is Lithuanian, after one minute the rest is in English. The picture on the left appeared in Žimones (the Lithuanian People Magazine). From L-R are George Pennacchio and his wife Erin, Ruta and her husband Webb Lowe. On the right, she is with Foreign Minister Linas Linkevicius.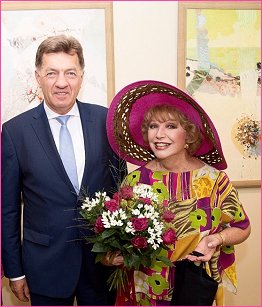 Ruta with Prime Minister Algirdas Butkeviciu.
Update: May 2016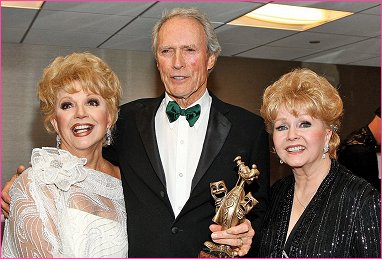 Ruta was thrilled to announce that Films from The Thalians Galas since 1955 and forward have found a home at The Academy Film Archive. Treasured memories are now there as they continue their charitable events. Please enjoy this wonderful article.
Update: March and April 2016
Ruta loves escaping Hollywood to her place in Las Hadas, Manzanillo. She makes sure not to miss her several visits a year. You too can experience the beauty. Check it out at the Mexico Rental site link.
Update: February 2016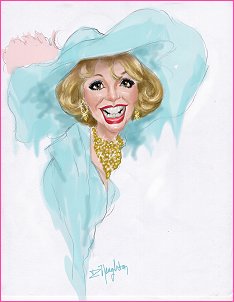 Always grateful to her fans, this fabulous caricature was done by Terry Naughton and then made into note cards by Donna Eller and Suzanne Cowan at Alpha Graphics in good old Forth Worth, Camp Bowie location.
Update: December 2015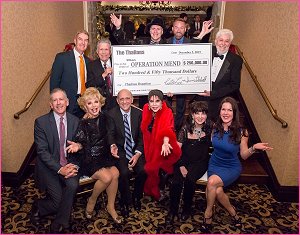 Finishing another charitable year in the spirit of giving. Ruta and The Thalians Board of Directors presented a $250,000.00 donation to Ron Katz, founder of Operation Mend, and Dr. Thomas Strouse, Director of UCLA's Resnick Neuropsychiatric Hospital. Operation Mend is devoted to helping brave military men and women heal the wounds of war; not only in body, but mind and spirit as well.
Top row - left to right: Andrew McDonald, Dr. Irwin Lehrhoff (President), Frank Sheftel, Brian Theobald and Larry Wolfe. Bottom: left to right: Dr. Thomas Strouse, Ruta Lee (Chairman Emeritus), Ron Katz, Stephanie J. Hibler, Barbara Cohen-Wolfe and Kira Lorsch. (Photo by Reed Hutchinson).
Update: November 2015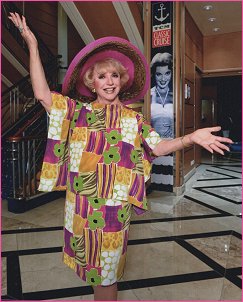 Ruta sailed away for her first Turner Classic Movie Cruise. She highly recommends these trips. The fans loved chatting with her after viewing Sergeant's Three and Witness for The Prosecution.
Straight from the cruise to New York City to march in The Veteran's Day Parade with Operation Mend Vets. Here she is with UCLA Operation Mend Founder Ron Katz and his brother, you may recognize him as Academy Award and Tony winner Joel Grey.
Update: September and October 2015
Above left: Earlier in the month Ruta attended EU Film Festival with Daiva Navarette, Honorary consul General Lithuainia and Vyto Ruginis, actor. Always true to her Lithuanian roots, she attended the Los Angeles Lithuanian Fair. Above right she is pictured with Michael Antonovich - Most Senior Member of Los Angeles County Board of Supervisors and actress Ann Jillian ( also of Lithuanian descent).
Update: August 2015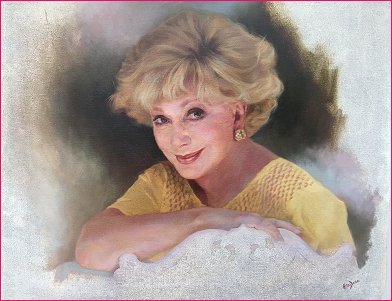 As a belated birthday gift, Ruta had this painting done by the wonderful artist Ara Donna. He is pictured above as well. Feel free to see the rest of his wonderful work at aradona.com and perhaps commission something for a loved one.
Update: April and May 2015
Ruta's Grand/God daughter Caitlin, 11 years old, put together this video of Ruta's life's moments for her surprise birthday party. She wanted to share with all her loving fans and friends!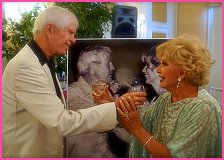 Arriving home just in time for a huge surprise Birthday Party at The Bistro Gardens. Here her husband Webb is toasting her in front of a photo taken almost forty years before.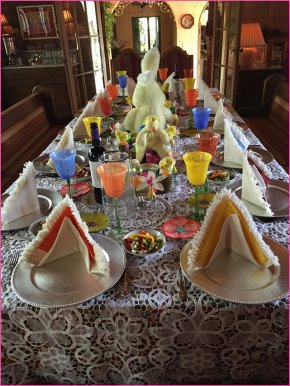 Ruta celebrated Easter with family and friends at her home before she left the country to spend six weeks in her home in Las Hadas. This is one of the five tables waiting for guests to arrive.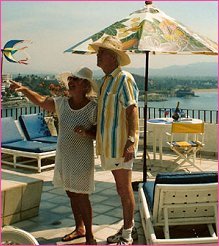 Enjoying the view in Mexico
Update: March 2015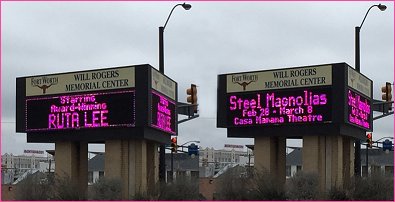 Through snow and ice storms, Fort Worth gave a rousing welcome to Ruta.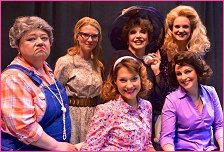 Ruta said she had the time of her life doing Steel Magnolias with these fabulous talented ladies and loves them one and all! From left to right: Mary Stout as Ouiser, Alyssa Robbins as Annelle, Ruta Lee as Clairee, Cheryl Allison as Truvy, Kimbre Lancaster as Shelby, Jacquelyn Piro Donovan as M'Lynn.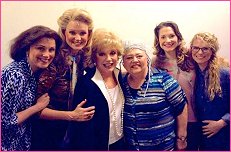 Jacquelyn Piro Donovan, Cheryl Allison, Ruta, Mary Stout, Kimbre Lancaster and Alyssa Robbins.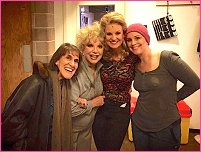 Her dear friend Ruth Buzzi braved the snow and ice and came to see the show.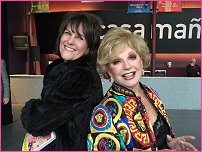 And her namesake Ruta Lee Jernigan came too!
Update: February 2015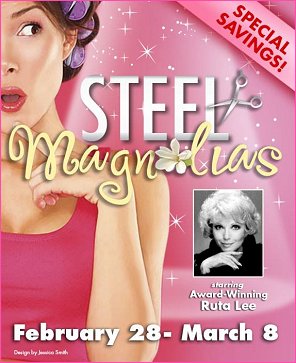 Ruta is headed to Texas to do Steel Magnolias at Casa Mañana in Fort Worth. Plenty of time to buy tickets and join her.
Update: January 2015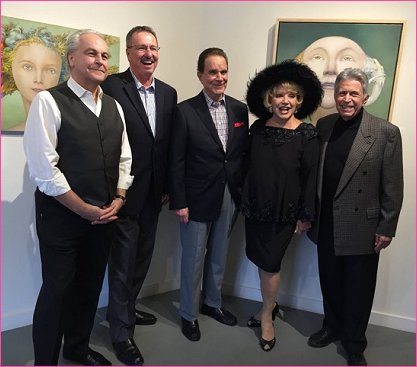 The latest Thalians and Operation Mend event was held at The Brian Marki Gallery in Palm Springs. Go to mariocanali.com to see his fine work. Never too late to purchase. From L-R: Mario Canali - Brian Marki - Rich Little - Ruta and Dr. Irwin Lehrhoff, current Thalians President.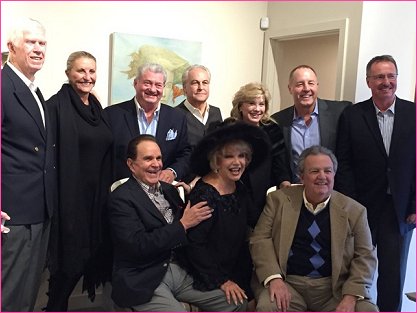 L-R in back: Webster Lowe - Pat Anton - Bill Anton - Mario Canali - Patti Gribow - Scott DeShong - Brian Marki. Seated L-R: Rick Little - Ruta and Dale Gribow.
Ruta Lee Interview - DuFoe Entertainment: A lively 4 hour talk radio show hosted by Terry and Tiffany DuFoe. Ruta loved doing this interview for them. They were kind enough to Ruta share it with you. So sit back and listen. It's about 30 minutes. https://archive.org/RutaLeeInterview
Update: December 2014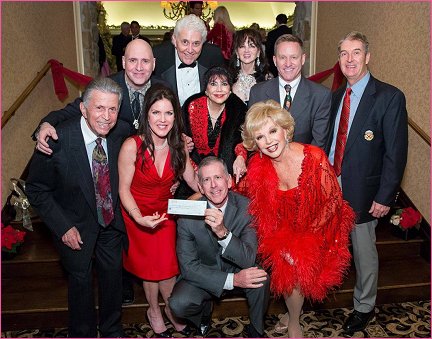 This $200,000 check is just the first of Ruta's beloved Thalians commitment to give $1,000,000 To Operation Mend. Here are The Board of Directors from top left to right. Top Row - Larry Wolfe, Barbara Cohen Wolfe. Middle Row - Frank Sheftel, Stefanie Hibler, Brian J. Theobald, Andrew McDonald. Front Row - Dr. Irwin Lehrhoff ( President) Kira Reed Lorsch, and Ruta (Chairman Emeritus) presenting check to Dr.Thomas Strouse, Director, UCLA's Resnick Neuropsychiatric Hospital/Operation Mend providing much needed services for returning wounded warriors. To see the rest of the photos, please feel free to go to thalians.org.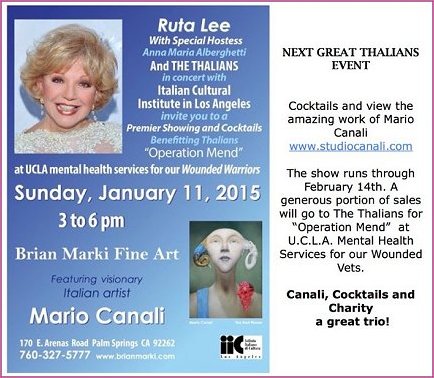 In the Palm Springs area??? Ruta would love you to join her at this event. It's free. She just hopes you'll love the art and treat yourself to a painting.
Update: November 2014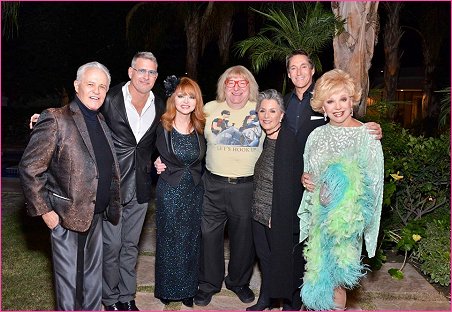 Charity with good friends. Life doesn't get much better. Dine and Dish was Delightful according to Ruta! Pictured here with Michael Childers,Ted Casablanca, Judy Tenuta, Bruce Vilanch, Barbara Boxer and Michael Corbet.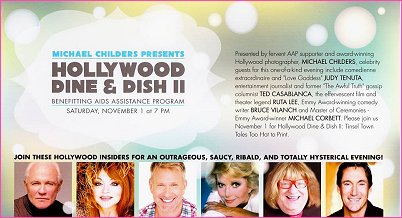 Great way to start a month.
Update: October 2014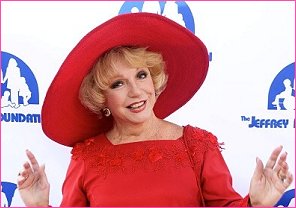 Ruta proudly attended The Jeffrey Foundation Renaming Ceremony. The Children's Center Building is now officially named for Ruta's beloved friends Margie and Robert Peterson who generously donated $1,000,000.
Update: September 2014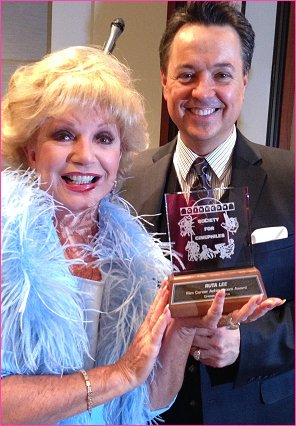 What a wonderful evening at Cincon 50. Here is Ruta's dear friend George Pennacchio presenting her award.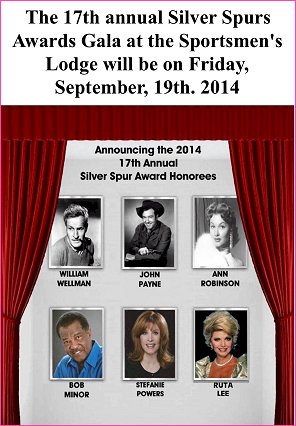 Saddle up and come on over....yet another award for Ruta. http://www.reelcowboys.org/RC_SilverSpurAwards.htm
Update: August2014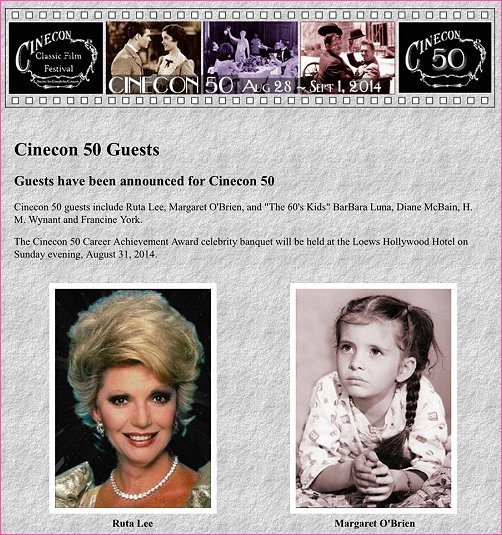 If you're in Hollywood on Labor Day weekend, this is a great place to be. For more information, go to http://www.cinecon.org/. Go to the screening of Witness For the Prosecution and the Banquet Dinner. Ruta will happily chat with you.
Update: June 2014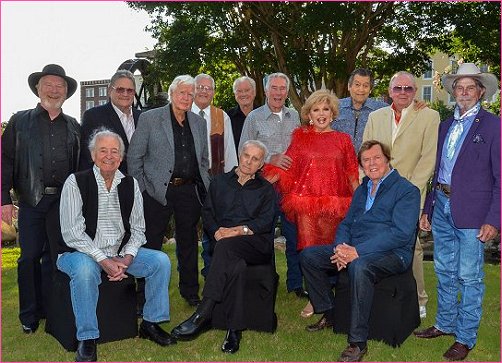 Ruta truly was their Leading Lady at Western Clippings/ Memphis film Festival, A Gathering of Guns. She corralled these gents for the final photo taken by Debra Cox. Standing left to right, Michael McGreevey, Dennis Devine, Clu Gulager, John Buttram, Robert Colbert, Robert Fuller, Ruta, Clint Walker, Luster Bayless, Buck Taylor. Sitting, Henry Darrow, Robert Conrad and Edd Byrnes. You can see all of Debra's great shots here.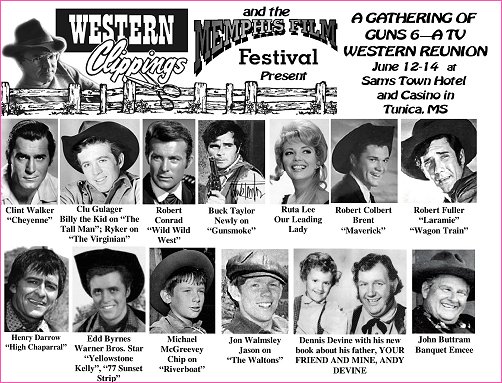 Look at them here. Do you think they have changed?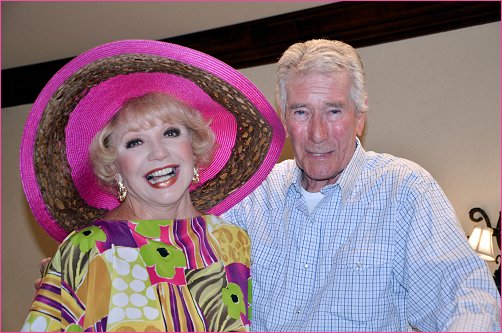 Ruta and Robert Fuller had the crowd in stitches at every panel!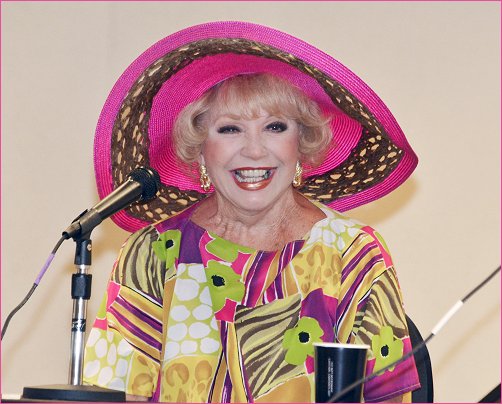 This smile never left her face for the entire memorable trip!
Update: April 2014
April 26th at the House of Blues - Ruta's beloved Thalians held their 56th Gala. They honored Smokey Robinson and the guests were treated to a fabulous evening of Rock and Roll while raising money for our Wounded Warriors and Operation Mend at UCLA. Ist photo,.L-R.:Ruta Lee, Chairman of the Board Emeritus, Dr. Irwin Lehrhoff, Thalians President, Smokey Robinson, Kira and Robert Lorsch, event Chairs. 2nd photo, L-R: Kira Lorsch, Army Specialist Joseph Paulk, Smokey Robinson, Marine Staff Sergeant Octavio Sanchez and Ruta.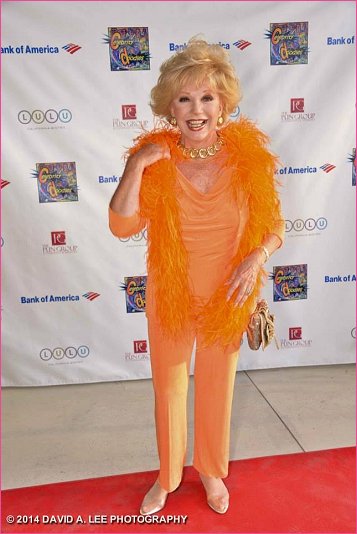 Doodles for Desert Aids Project on Saturday, April 5th at the Palm Springs Air Museum proved to be quite festive and fun. Ruta contributed several men's ties she bejeweled!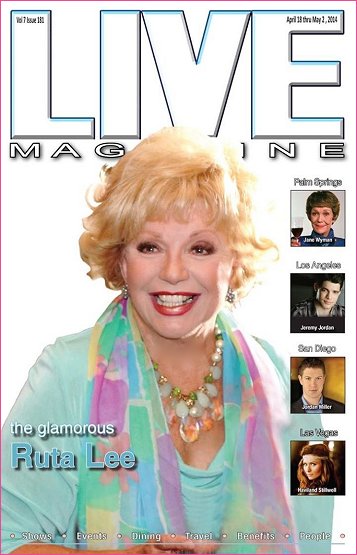 Another Magazine cover for Ruta. "Live" will be hosting a cocktail party in her honor at Lulu's in Palm Springs on May 20th.
A wonderful place to see over 1,400 photos from previous Thalians Galas. Were you there? http://www.gettyimages.com/editorial/thalians-annual-ball-pictures#
Update: March 2014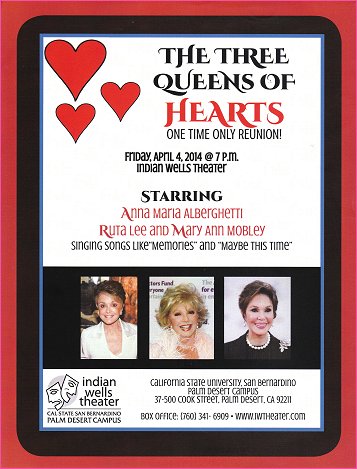 It's a lovely cozy venue. Let's make it a sell out and come backstage to say hi!
More information on how you can be a supporter of The Thalians Tribute Concert honoring Smokey Robinson. The Thalians' focus is on the well-being of America's wounded heroes. Please click HERE for all the information you need. Thank you.
Update: February 2014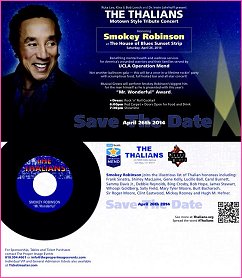 The crunch is on. Ruta wants to make the next Thalians Event the best is their history. You can help. It's all about Charity and giving to those who really need thanks for their service to our country. It's April 26th and promises to be a "rip roaring rock and roll event" If you cannot come, please donate www.thethalians.org.
Update: January 2014
Finished the month with a great reading.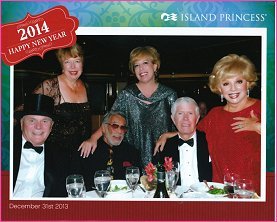 Ruta could think of no better way to ring in 2014. From left to right: Gentleman Joe Shubeck, Gigi Carlton, Gary Damsker, Ronilynn Miller, Webb Lowe and Ruta. Fabulous Panama Canal Cruise with wonderful friends and outstanding travelmates.
Update: December 2013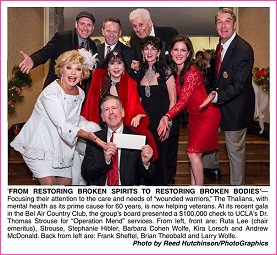 Ruta and her Thalians made the news again with their generosity.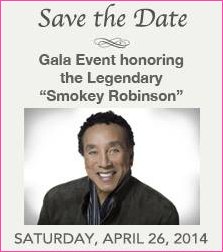 The Thalians were able to announce their next fabulous event.
Update: November 2013
Ruta invited Liz Stavrinides, pet photographer, to her home to help with her book "Miracle Dogs". It was just released. These are some of the photos.
Update: October 2013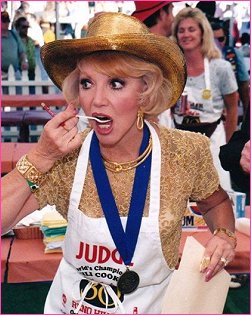 Ruta spends many weekends at her home in Palm Springs. Seems like her palette was needed for chili and meatballs. One day she was at The World's Championship Chili Cookoff at The Spa Resort and the next she was tasting meatballs at the fabulous Trilussa. This was a shot taken in 1996 when she first helped.
Update: September 2013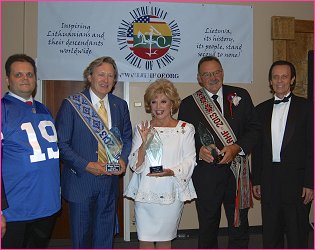 On August 24th, Ruta was inducted into The National Lithuanian Hall of Fame. L to R: Counsul General of the Republic of Lithuania in Chicago ( #19 Jersey), Marijus Gudynas, John C. Unitas Jr. (representing Johnny Unitas), Ruta, Dick Butkus and Jon Platakis, Chairman NLAHF.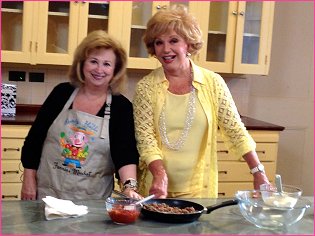 Earlier in the month Ruta did a Beverly Hills Cooking Show at The Greystone Mansion. Click on above photo to see the video.

Update: August 2013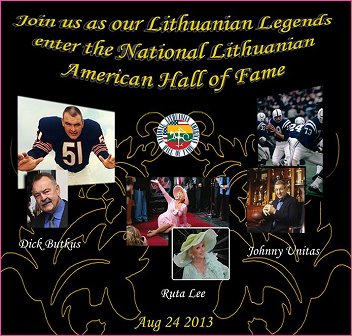 On August 24th, Ruta will be inducted into The National Lithuanian American Hall of Fame. It's not too late to join her in Chicago! (Click on photo for information).
Update: July 2013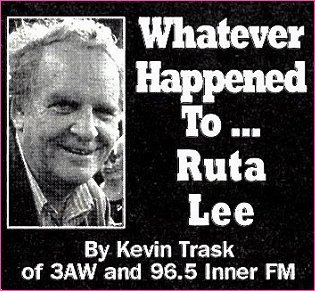 Ruta was delighted to be interviewed by Kevin Trask from Australia! (Click on photo to read).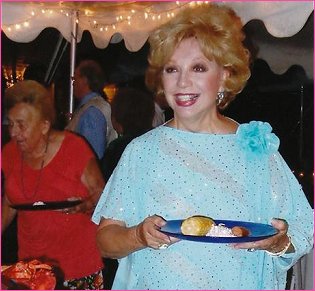 She also emceed The 100th Anniversary of Knights of Lithuania in Boston and thoroughly enjoyed a good old lobster and clam bake!
Update: June 2013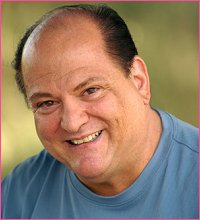 Tune into Theatre Chat and This 'N That with "Mr. Showbusiness", Jimmy Ferraro. Ruta will be his guest live on Wednesday, 12:35 -1:00 PM Eastern from WWJB. AM 1450, FM 103.9 and Nationally online.
Update: May 2013
Meeting with the fabulous Michael Costello from Project Runway. Ruta is anxious to see what he creates for her.
Update: April 2013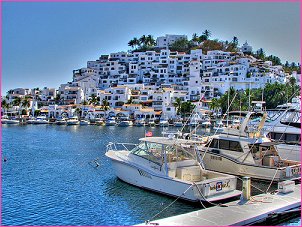 Ruta and Webb spent six glorious weeks at their home in Las Hadas.
Update: March 2013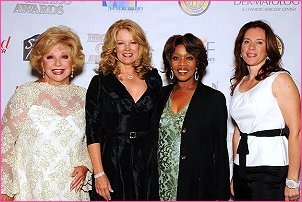 Palm Springs Women in Film honored Ruta on March 1st at their 5th annual Broken Glass Awards. She was in excellent company with the other honorees, Mary Hart, Alfre Woodard and Lisa Houston.
Update: February 2013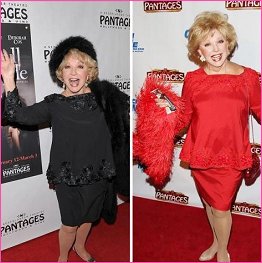 Ruta loves the wonderful shows at The Pantages Theater and tries never to miss an opening night. Here she is at Jekyll and Hyde and a few weeks later at Catch Me if You Can.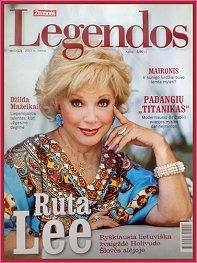 Always a Cover Girl - she was featured in the Spring Issue of the Lithuanian magazine Legendos.
Update: January 2013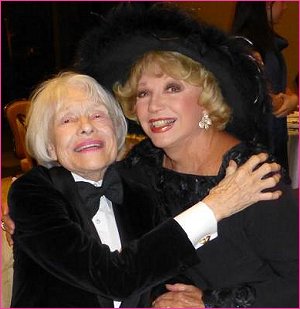 On January 31st, Ruta helped her dear friend Carol Channing celebrate her 92nd Birthday.
Update: December 2012
On December 7th at the Thalians Holiday Party, Ruta, along with current Thalians President, Dr. Irwin Lehrhoff, graciously presented a $100,000.00 check for UCLA's Operation Mend, to Dr. Thomas Strouse, Medical Director of Resnick Neuropsychiatric Hospital.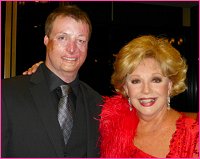 Wounded Warrior retired Army Specialist Joey Paulk.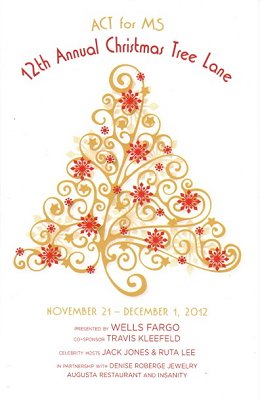 Ruta and Jack Jones co-hosted the live auction party for Act for MS 12th Annual Christmas Tree Lane on December 1st. Great job, lots of money raised, and much fun had by all.
Here's Ruta with Jack Jones, Carol Connors and Leo Milmet, a young man who bid against Webb for a tree AND a dress by Project Runway Designer Michael Costello.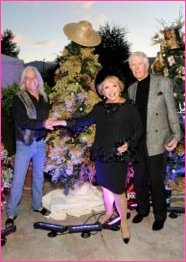 Ruta and Webb with Daniel Wright who designed her tree.
Update: November 2012
On November 30th, Ruta attended The McCallum Theatre 25th Anniversary Gala featuring an outstanding performance by Reba McEntire.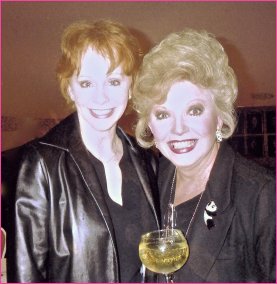 Relaxing and working on her book Ruta and Webb spent six glorious weeks at their lovely Las Hadas home.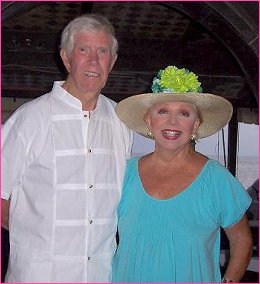 Update: October 2012
Ruta will always miss her dear friends Bob and Margie Petersen and is forever there for their charitable causes. She and Webb loved The Comedy and Cars Gala at the Peterson Automotive Museum. Here they are with the wonderful Suzanne LaRausch.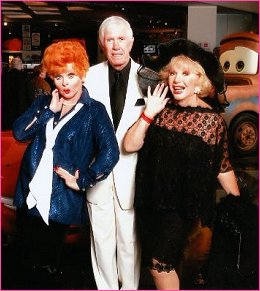 Update: July 2012
Ruta appeared on Good Morning Texas. She and host Carrie McClure became fast friends. It was her first appearance on a Jumbotron.
Update: May 2012
"Bionic Woman" Lindsay Wagner was honored in Palm Springs with a star on the Palm Springs Walk of Stars. Held at The Corridor to celebrate her acting career, as well as her writing and humanitarian work, I was happy to speak for a few minutes before "Wonder Woman" Lynda Carter presented the plaque. So happy David A. Lee Photography was there to snap this shot!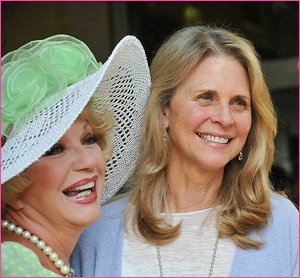 Richard Skipper is writing a book on Dolly Levi and those who have played the role. Richard Skipper Celebrates Ruta Lee as Dolly Levi! Here's a blog of celebration! Of Life, Entertainment, and the things I like! AND Keeping the Arts Alive! Doing it right...doing it big...giving it class!
Update: April 2012
Another busy month found Ruta being interviewed by Marsha Hitchcock for her Smart Woman series. Next she did a sizzle reel for fellow Thalian "Candy Maker to the Stars", Frank Sheftel for his reality show.
April 21: Odyssey Ball for the John Wayne Cancer Institute - The honoree was her dear friend Dr. Lawrence Piro. Ruta had the priviledge of serenading him with "You'll Never Know". She had the world renown David Foster as her pianist.
Update: March 2012
Ruta graced the cover of the Texas based newspaper The Senior Voice with a wonderful interview inside by Barry Rogers. Click here to read.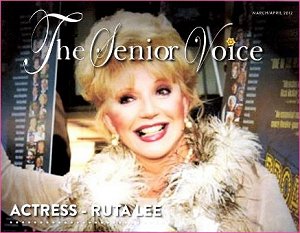 Update: February 2012
A HUGE SOLD OUT EVENT shared by these wonderful friends as "Angel" Ruta helped to raise an unprecedented, record breaking amount for this outstanding Charity.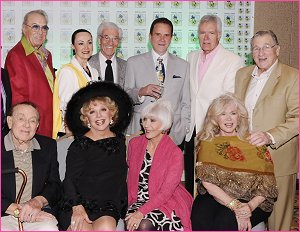 Back Row: Steve Rossi, Stephanie and Mel Haber, Rich Little, Alex Trebek and Shecky Greene. Front Row: Jack Carter, Ruta, Rona Barrett and Connie Stevens. Photo courtesy of Maile Klein Photography.
Update: January 2012
Ruta Named 2012 Angel Of The Year By Angel View Organization In Palm Springs
The Angel View Crippled Children's Organization is Palm Springs' most esteemed and oldest children's charity in the Desert. Check out the story at Highlight Hollywood.
Ruta started the year off with a bang. She filmed an episode of Celebrity Shoot Out with her pal Joe Mantegna and show host Michael Bane.
Update: December 2011
Ruta and Webb were invited to the NRA Headquarters in Fairfax, VA this week and was given a guided tour of the National Firearms Museum. Story here.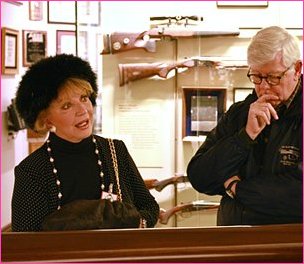 Musical Mondays at the Pantages Theater, presented by The Actor's Fund, is always a hit with Ruta. The latest show was Betty Buckley performing Ah Men! The Boys of Broadway. Here's Ruta with Marion Ross, Juliet Mills and Betty Buckley.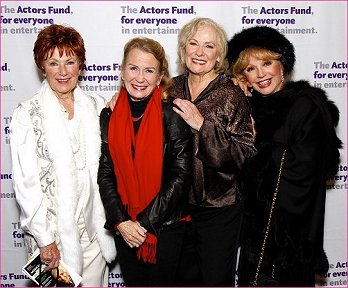 Update: October 2011
Ruta had a great time doing an episode of Days of Our Lives. She plays Tillie; it will air on January 4th. She so enjoyed renewing her friendship with dear friends Bill and Susan Hayes and she was overwhelmed when the cast and crew gave her a standing ovation.
Update: September 2011


Ruta thoroughly enjoyed doing this podcast with Bill Feingold and hope you will too. Here's the link to download her interview: http://itunes.apple.com/us/podcast/bulldog-bill-feingold-hour-1/id423645372?i=97241312. Her show is Hour #1 on 9/13/11.
On August 29th, as Chairman of the Board of The Thalians, Ruta presented a check for $300,000 to Operation Mend of UCLA. They were chosen as the honoree and benefactor of the Thalians 2011 event for their mission to heal America's returning military heroes...in mind, body and spirit.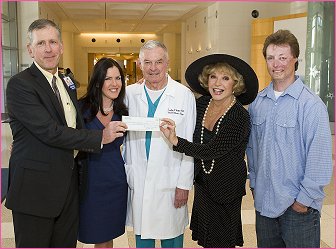 Left to right: Dr. Thomas Strouse, medical director of the Resnick Neuropsychiatric Hospital at UCLA; Kira Lorsch, 2011 Thalians Event Co-Chair; Dr. Tim Miller, Plastic and Reconstructive surgeon of UCLA's Operation Mend Team; Ruta Lee, Thalians Chairman of the Board; and retired Army Specialist Joey Paulk, a UCLA Operation Mend patient who was injured in Afghanistan on July 5, 2007 when his tactical vehicle was hit by 3 anti-tank mines, flipping it over and igniting the fuel tank.
Update: August 2011
Ruta was honored with a "Hitching Post" plaque on Main Street in Kanab, Utah at their Western Legends Roundup in August. The town is known as Little Hollywood for the over 200 films made there, a favorite of which is Sergeants Three.
Update: July 2011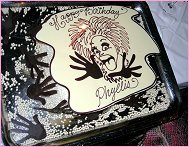 Ruta recently finished a photo shoot in Palms Springs for Angel View Crippled Children's Society where she will be their Angel of The Year at their 58th annual Luncheon on 02/20/12. Staying as busy as ever, she just celebrated her husband Webb's birthday, as well as a surprise 94th for Phyllis Diller.

On Monday, July 18th, she was interviewed by Russian journalist, Natalia Higginson, who is trying to educate the younger generation of her country about the art of the Cinema by using true Hollywood Legends.
Update: June 2011
After hosting the extremely successful Thalians 55th Gala at the Playboy Mansion on April 30th, Ruta continued merrily on her philanthropic way by emceeing Spring of Hope for McIntyre House on May 21st. She had a delightful time with the talented and always funny, Judy Tenuta.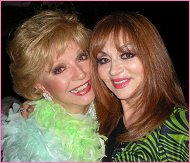 On June 12th she attended the 15th Annual Actors Fund Tony Awards Party at the Skirball. Hal Holbrook was presented the Julie Harris award by Sean Penn.

Update: March 2011

Ruta honored her dear friends William and Patricia Anton on March 31st in NYC when she was Master of Ceremonies as they were presented The Americanism Award by The Anti Defamation League.

Update: January 2011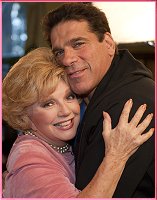 December brought many wonderful folks to Ruta's home as she interviewed them for Faith for Today/Lifestyle Magazine of the Airon The Trinity Broadcast Network. She hugged The Hulk, laughed with Tim Conway and George Wallace, and thoroughly enjoyed chatting with Della Reese, Franklin Lett, Bill and Susan Hayes, Lee Meriwether, Dick and Patti Van Patten, Catherine Hicks, Kevin Yagher and the adorable Chelsea Hightower. Mike and Gayle Tucker also enjoyed Ruta's hospitality. Stay tuned for air dates.
2010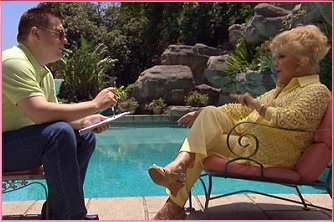 Friends from all over the globe are commenting on Ruta's appearance in Showtime's La La Land. As always, she was a big hit.
Ruta recently finished the film, The Land of the Astronauts, starring David Arquette and Bijou Phillips. The film is in post-production.

Ruta joined an incredible roster of "Distinguished Women" at the Northwood University Gala on November 4 - 6, 2010 at the Ritz Carlton Hotel in Dallas, TX. Proceeds will benefit the students and enhance Northwood's three campuses.



After finishing a great run starring in The Best Little Whorehouse in Texas at her favorite theater, Casa Mañana in Fort Worth, Ruta is back in L.A. but can't wait to go again! Here she is with her namesake, Rutalee Jernigan, who flew all the way from Ruidoso, New Mexico for the show.
Join Ruta on Facebook. At first, she was adamantly opposed to having her own FB page, but her mind is starting to change after connecting with so many people in her life, including fans from all over the world. One person posted the below photo of a Cadillac that Ruta once owned in the 70s, taken last year at Milda's Corner Market in Michigan.